Mentorship Program
GDI Southeast only!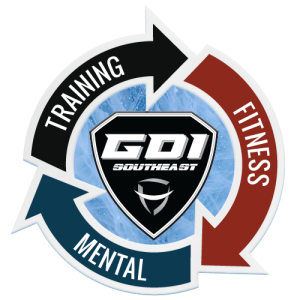 GDI Southeast is excited to launch the all new Mentorship Program for the dedicated goaltender looking to advance their game to the next level. The program is designed to apply consistent training throughout the course of the season, touching on all aspects of goaltender development, built around 3 primary components.
Training. Fitness. Mental.
The base of the program is Private 1 on 1 on-ice lessons. Modern technique is the input most responsible for the domination of today's game by goaltenders. This environment allows for true construction and dissection of unique skill. Couple this with live post-game assessments and immediate video review for maximum feedback and support.
Prospective goalies are now looked at to be great athletes. We have partnered with Launch Sport Performance and Tough It to utilize their state of the art fitness centers. We will devote time to many specific fitness areas including Hand Eye Reflex Training, Strength, Functional Body Movement, and Core Stability.
Without mental conditioning and coaching, a goalie's game can suffer from stress, poor self-confidence, lack of focus and concentration, and a host of other mental and emotional weaknesses. We provide you with the mental conditioning and strength necessary to meet the mental and emotional rigors of goaltending. We match the goalie's physical strength and technical ability with mental toughness, tenacity and durability to create a totally well-rounded goaltender.
GDI Southeast Regional Manager Jay Chrapala will conduct all on-ice and off-ice sessions as well as game assessments. GDI USA Mental Conditioning Coach Ted Monnich will conduct all mental conditioning sessions via phone or internet conferencing. Link to Coaches Bios
We have 3 packages catering to your specific needs and budgets available. Services may be used throughout the course of the 2014/2015 season.