2018 GDI Midwest Regional Development Camp (RDC): Chicago – Boys/Men
July 23 - 27
Mount Prospect Ice Arena, Mount Prospect, IL
GDI 1, GDI 2, GDI 3, GDI 4 Progression Levels
Price Varies by Level - $349, $749, $949 EARLY BIRD PRICING!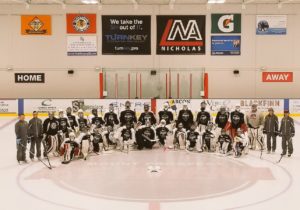 Our 4th annual event! With our continued success in Chicago, we are proud to announce our GDI Midwest camp. In an effort to provide coaching to the entire Chicagoland area, we will utilize the brand new Mount Prospect Ice Arena as a central location. Join USHL Green Bay Gamblers, NAHL Springfield Jr. Blues, HPHL Chicago Mission, and CSDHL Falcons Goaltending Coaches Ryan Honick, Oliver Freij, and their staff, at the most comprehensive camp in the area.
Regional Development Camps are the anchor to a goaltender's off-season development needs. This 5 day camp provides the biggest impact on goaltender performance in a short period of time. In addition to our time on the ice, our camp is very intense. Our camp includes a lecture series with guest speakers, custom created journals, video breakdown, comprehensive evaluation reports and much more.
For the GDI 2, GDI 3, and GDI 4 levels, we have included Five 60 minute PSM Skating Sessions and Five 90 minute Skill Development Sessions for an optimal on ice environment focused on technical and tactical growth. We have also included Five 60 minute Fitness Sessions to emphasis physiological training, testing, and education by partnering with USHL Chicago Steel Strength & Conditioning Coach Virgil Strzelecki and dedicating more time in the gym to our students. We pride ourselves in utilizing world class facilities and are proud to be hosted by the brand new Mount Prospect Ice Arena.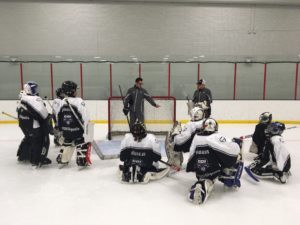 Details
GDI 1 (Mites, Squirts) Group of 12 with 5 Coaches, Half day Program (Includes 1 Skill Development Session and 1 Fitness Development Session per day)
GDI 2 (Squirts, PeeWees) Group of 12 with 5 Coaches
GDI 3, GDI 4 (Bantams, Midgets, HS) Group of 12 with 5 Coaches
36+ hours of instruction
7.5 hours of On Ice Drill Development Sessions
5 hours of Position Specific Movement Sessions
Fitness Development Sessions
Vision Development Sessions
Yoga Sessions
Lecture Series
Journals
Evaluations
GDI USA Goalie Jersey
BYO Healthy food and snacks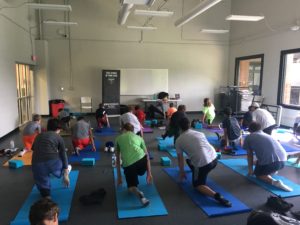 Schedule (Subject to Change)
Monday Check In & Orientation Meeting: 11:00am GDI 2, GDI 3, GDI 4 Groups
Friday Wrap Up Meeting: 1:30pm All Groups
GDI 1 Group Mon.-Wed. 4:00pm Arrive – 7:15pm Depart (No Orientation Required)
GDI 1 Group Thu. 2:20pm Arrive – 5:35pm Depart
GDI 1 Group Fri. 9:40am Arrive – 1:30pm Wrap Up
GDI 2 Group Mon.-Thu. 12:00pm Arrive – 7:15pm Depart
GDI 2 Group Fri. 8:30am Arrive – 1:30pm Wrap Up
GDI 3, GDI 4 Groups Mon.-Wed. 12:00pm Arrive – 7:40pm Depart
GDI 3, GDI 4 Groups Thu. 12:00pm Arrive – 7:15pm Depart
GDI 3, GDI 4 Groups Fri. 8:30am Arrive – 1:30pm Wrap Up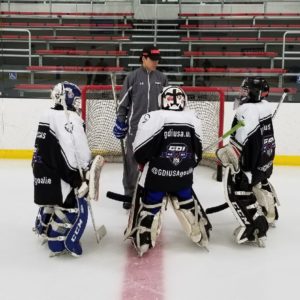 Staff
Ryan Honick, President GDI USA
Oliver Freij, Assistant Manager GDI Midwest
Virgil Strzelecki, USHL  Chicago Steel Strength & Conditioning Coach
Check back for more…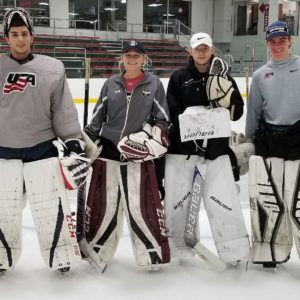 Registration (deadline June 25)
GDI 1 (Mites, Squirts)
GDI 2 (Squirts, PeeWees)
GDI 3, GDI 4 (Bantams, Midgets, HS)