2018 GDI USA PRO Consulting (PRO)
August 13-16
Johnny's Icehouse West, Chicago, IL
PRO Progression Level - Junior, College, Professional only
$350 per day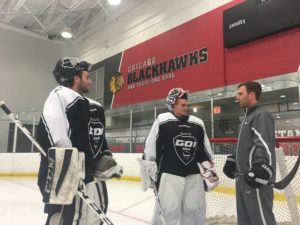 "I am pleased to announce the 2018 GDI USA PRO Consulting. This event is used to facilitate an elite goaltender's necessary pre-season preparation. Whether seeking alternative concepts, putting the finishing touches on fine tuning, or looking to push your game to new heights, allow my staff and I to assist you in these endeavors."
"We invite only 8 male and female goalies per day. You are in a group of 4, you and 1 other comparable goalie share a net and you have a dedicated coach at your station. The student/coach ratio is 2:1. I will also have additional guest coaches on the ice to assist you, learn from the core staff, and assess and record the sessions. I look forward to working with you."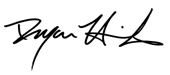 Our signature event. We have secured Johnny's Icehouse West, the former Blackhawks training facility, to again offer a world-class experience for our attending junior, college, and professional clients.
This 4 day event is completely customizable. Participating athletes may attend between 1 and 4 days. Their is a daily fee and a daily roster. Further customization includes pre-event consultation with the coaching staff to build a curriculum created only for you.
Event Coaches
Ryan Honick, President GDI USA, Goaltending Coach USHL Green Bay Gamblers, NAHL Springfield Jr. Blues, HPHL Chicago MIssion, 6 seasons ECHL Consultant
Additional staff to be announced.
Event Details
Three 60 min On-Ice Sessions per day
Two Drills Sessions and One Skating-Only Session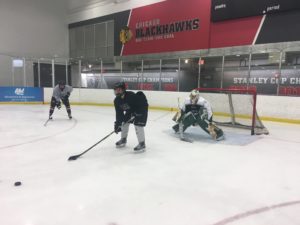 Event Includes
One nights hotel stay is included per day attending (No discount for local)
Hired Shooters of Junior, Collegiate, Professional level
*Former Blackhawks locker room and fitness area now available to our event, including overnight gear storage
Airport Transportation
GDI USA Jersey
Event Example Schedule
9:00-10:00am Drill Session 1
3:40-4:40pm PSM Skating Session
4:50-5:50pm Drill Session 2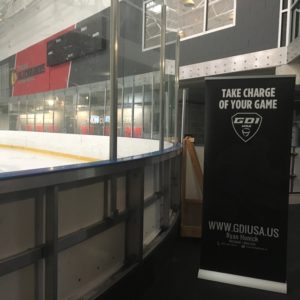 Event Fees
Registration and Payment Deadline is July 1 (Cancellations after are subject to administrative fee)
$350 Daily Fee