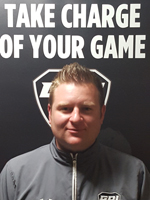 Ryan Honick
President, GDI USA
Ryan is a professional Goaltending Consultant, and the President of GDI USA. He is an understudy of GDI Founder and Columbus Blue Jackets Goaltending Coach Ian Clark and has also studied under Tampa Bay Lightning Goaltending Coach Frantz Jean and recent Carolina Hurricanes Goaltending Coach David Marcoux. Ryan has been coaching since 1999, including 6 seasons in the ECHL, the premier AA Pro Hockey League in North America. Ryan coaches and scouts for the USHL Green Bay Gamblers and the NAHL Springfield Junior Blues. He is the Director of Goaltending for the HPHL Chicago Mission and Goaltending Coach for the NCHA Aurora University Women's team. He also directs programming for many other organizations in the Midwest, Southeast, and Atlantic regions of the US.
Ryan has worked with 4 goaltenders in the ECHL that have gone on to play in the NHL. Many of his affiliated students play in the professional, collegiate, and amateur levels of the game, and include 10 individual accolades. The 2015, 2014, 2012, 2010, and 2009 ECHL Goaltender of the Year award winners, the 2016 USHL Goaltender of the Year, the 2017 and 2016 USPHL-Premier Goaltender of the Year, the 2014 USPHL-Elite Goaltender of the Year, and the 2011 EJHL Goaltender of the Year. He has also seen two of his goaltenders drafted to the NHL and three selected to the US National Team Development Program.
Ryan is a contributing writer for InGoal Magazine, a global online goaltending resource and has presented recently at the Network Goaltending Symposium and USA Hockey Goaltender Coach Certification Pilot Program. Ryan is a Level 5 USA Hockey Certified Coach. He hopes to develop goaltenders throughout the US in an effort to strengthen its goaltending prowess and seek out the talented and ambitious athletes ready to compete at the next level. Now 39, Ryan is from Pittsburgh, PA and resides in Chicago, IL with his wife and Women's Director Sanya Sandahl-Honick.